How to work the flawed tax code and invest more money in movements right now
As a fundraiser I look at wealth data a lot. But this year a statistic stopped me in my tracks: the richest 10% of Americans now hold nearly 90% of all shares in the stock market. In other words, the majority of corporate stock wealth sits with just a tiny slice of people. For me, this number is a stark reflection of the profound economic inequity that surrounds us.
I am a member of that 10%, with some investments in Wall Street. I am also someone who is committed to moving money in the direction of justice and repair. For those of us who are part of the 10% with that oversized 90% of stock wealth, we can give "a fair share" and donate stocks.
If this is you, I hope you'll join me by sharing some shares and investing in Women's Foundation California this year!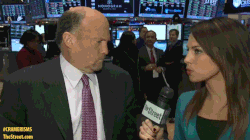 Flawed as it is, the tax code currently incentivizes wealthy donors to donate stock over giving cash. Making use of these incentives can make us even bolder in how we activate money and fund movements that are shifting power. I'm not suggesting that it's a perfect or sufficient solution, but divesting and donating stock can absolutely be part of a philanthropic investment practice rooted in solidarity instead of charity. Find out more about how to give a fair share by donating stock this year. If you have questions or want to discuss further, please be in touch.
It's going to take fairer taxes and moving more money into movements led by Black, brown, and Indigenous women and gender-expansive folks that build community wealth and power to ensure well-being and prosperity for us all. I'm not alone in taking redistributive matters into my own hands to invest in economic and social relationships that are fair and just. Our Women's Foundation California community of movement leaders, activist donors, and investors inspires and emboldens me.
Part of the power of our community is that we have some folks who are showing up with a wealth of new ideas and a track record of building power and others who are showing up with material wealth: money in the bank (and in the stock market). We each have our roles to play to challenge the interlocking systems of white supremacy, patriarchy, and racial capitalism that concentrate and accumulate wealth in the pockets of the few. That's how we'll build the feminist future together.
C'mon my fellow feminist shareholders, let's get sharing!
Donating stock can be powerful and simple. You can make your charitable contribution of appreciated stocks or mutual funds with our online tool in under 10 minutes.
Or, contact Liza Siegler for stock transfer information, or to rant together about wealth redistribution and the flawed tax code.
Understanding the incentives and benefits of stock giving is important. Learn more about why donating stock is so great for donors who want to move more money into movements for justice now.